Volunteers:   Thank you for assisting Cason's Place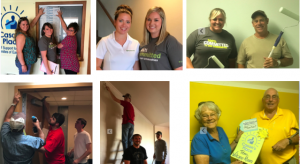 July Volunteers: The staff of Northwest Farm Credit all pitched in the last week of July to help us complete the finishing touches.  Moving doors, changing to door knobs to have locking offices, privacy film added to office windows, painting: the board/adult talking room, reception area and the teens talking room, patching flooring, spackling walls, installing safety  rails to the steps.  The groups also adopted the Teen Volcano room which was sponsored by Pendleton Foundation Trust.  Cason's Place was ready for the kids and teens for Camp Cason held in August.  Northwest Farm Credit employees went above and beyond to help Cason's Place.
Thanks go to Della and her crew from Umatilla County Corrections: Community Service Department.  Community members gave over 140 hours of moving furniture, spackling, sanding  and landscaping. Cason's Place appreciates their hard work and we are able to share our mission with others in the community.
Shouts of Thanks go out to contractors and construction companies who are assisting with readying Cason's Place: House Craft, Pendleton Electric, Round Up City Plumbing.  Their expertise and volunteer spirit is very appreciated.
Rodney Pahl has become Cason's Place maintenance coordinator and contributes his time and talents on a daily basis to Cason's Place.
Cason Place Website was created and maintained by a Hermiston High School student, Jordan.  His contributions have allowed the mission of Cason's Place reach out into the community.  Thank you Jordan and good luck in college.
Cason's Place thanks our family of volunteers and supporters! Are you interested in becoming a volunteer? Contact: janpt.loss@gmail.com